About Pennington Biomedical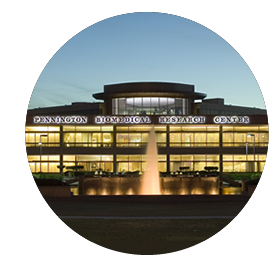 The Pennington Biomedical Research Center, a campus of the LSU System is at the forefront of medical discovery as it relates to understanding the causes of obesity, diabetes, cardiovascular disease, cancer and dementia.
The research enterprise at the Center includes approximately 80 faculty and more than 25 post-doctoral fellows who comprise a network of 50 laboratories supported by lab technicians, nurses, dieticians, and support personnel, and 19 highly specialized core service facilities.  The Center's more than 500 employees perform research activities in state-of-the-art facilities on the 234-acre campus located in Baton Rouge, Louisiana.
To learn more about Pennington Biomedical, visit www.pbrc.edu or follow us on social media:
facebook | twitter | instagram | youtube